Spain "needs aid urgently" : ECB member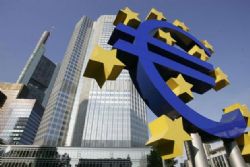 Luc Coene, an ECB Governing Council member, told the Belgian press yesterday how Spain should seek financial aid "urgently".
Coene, who is also the head of the Belgian Central Bank, told De Standaard how he had concerns over the future of the economy after recently issued Spanish 10-year treasury bonds rose to a 6% yield.
The Banker went on to warn that if the governments fail to improve competitiveness, many EU member states will have to face a similar situation last seen in Japan, where the economy experienced years or supressed growth.
However, earlier in the week the EU Commissioner for Economic and Monetary Affairs, Olli Rehn, praised Spain's efforts in reducing deficit and said "no further steps in the excessive deficit procedure of Spain are needed at present."
Yesterday Spain's Minister for the Economy, Luis de Guindos, was quoted as saying how "Spain does not need any financial assistance from the IMF".