Spain vows to protect Gibraltar waters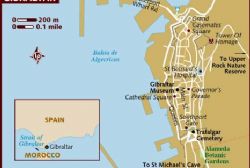 Spain said on Friday its security forces would protect Spanish fishermen following the latest flare-up in disputed waters around the British territory of Gibraltar.
Britain on Thursday accused Spanish navy and customs ships of making what it called "provocative incursions" into waters around Gibraltar, a peninsula in southern Spain ceded to the British in 1713 and long claimed by Spain.
Spanish Foreign Minister Jose Manuel Garcia-Margallo told Cadena Ser radio: "There was an incident. One of our patrols stopped an unidentified boat in disputed waters which we consider Spanish.
"What we said was that our fishermen are going to carry on fishing. They are going to fish, they have fished all their lives, and they are going to be protected by the Civil Guard."
Both countries summoned the respective ambassadors in Madrid and London on Thursday over the incident.
Garcia-Magallo, who is in the Atlantic port city of Cadiz for the Ibero-American Summit, said Spain wanted good relations with Britain, a fellow EU member.
"We have economic interests in the United Kingdom, many tourists come here. I believe we have to work with the UK.
"But that is not to say we have to make concessions over what we consider important. We are open to dialogue. In a very few days we will have a solution that will be satisfactory to both," he said.
Britain's Minister for Europe David Lidington said on Thursday London had made repeated diplomatic protests to Madrid over what he said were attempts by Spanish authorities to exercise jurisdiction in British Gibraltar Territorial Waters.
In May, Spain accused Gibraltar police of chasing its fishermen from Spanish waters and deployed Civil Guard officers to protect their boats. Gibraltar and Britain said the police were enforcing fishing laws within their waters.
The peninsular was captured by British forces in 1704 then ceded by Spain 9 years later. Spain has long claimed it as its own and the conservative government led by Mariano Rajoy has taken a strident attitude on the issue.
It believes the former Socialist government dealt a blow to negotiations over its future by allowing three-way talks to include the pro-British Gibraltar government.
Spain is likely to receive words of support from Portuguese and Latin American leaders who are attending the Ibero-American Summit. In another dispute stemming from Britain's days as an imperial power, the meeting is also expected to denounce Britain over the Falkland Islands.
Argentina claims the islands, which it calls Las Malvinas and occupied briefly in 1982.