Spain faces €20 Bln EU funding cut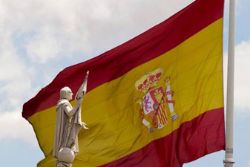 Spain may lose around €20 billion from the EU from 2014 to 2020 compared with the previous 7-year period, according to diplomatic sources familiar with the negotiations.
For the first time, Spain will be a net contributor to the EU, most likely during that entire period.
The blow will be all the harder to bear as it comes in the middle of Spain's economic crisis, with GDP contractions of around 1.5% expected this year and the next, unemployment hovering at 25% and rising fast, and the long shadow of a 2nd bailout looming over Madrid.
However, the €20-billion budget cut is not a done deal. Just a week away from a EU summit, its 27 member countries are still far from reaching an agreement. Figures 'could' change depending on the reference period used for calculations: either figures from 2009 and 2010, when the crisis was not quite so acute, or the more recent data that Spain is lobbying to use. But this will require further negotiations, and diplomatic sources said it is unrealistic to expect significant improvement on that front.
The cuts that the European Council is proposing will significantly harm the Spanish economy, which stands to lose the equivalent of 2% of GDP if the suggested figure of €20 billion stands.
Furthermore, the cutbacks are focusing on 2 items that are particularly sensitive for Spain's social and economic development: cohesion funds, which aim to reduce regional disparities and could fall up to 30% according to the diplomatic sources, and agricultural subsidies, earmarked for a 17% reduction in direct payment to farmers and rural development grants.
Spain unequivocally rejects this plan in favor of the first project presented by the European Commission, which left the agricultural chapter nearly intact, according to figures provided by the Commission itself. France is also forcefully rejecting cuts to agricultural policy: it received €36 billion for this item between 2007 and 2013, which eats up 40% of the EU budget.
As for the cohesion funds, Spain might find support from France and Germany in its appeal to moderate the cuts. Between 2007 and 2013, Spain received €43 billion in cohesion funds.