Valcarcel criticises opposition over Paramount progress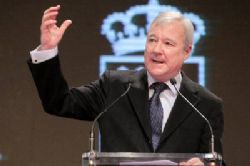 In an interview with Cadena Cope radio station late last week, Murcia's President Valcarcel criticised the regional opposition parties for hindering the progress of the Paramount theme park at Alhama de Murcia.
Valcarcel recalled that the project was mocked from the moment it was announced, with many in opposition claiming it was simply propaganda, but that together with the regional Minister for Culture and Tourism, Pedro Alberto Cruz, he has fought to make the park a reality.
He went on complain that those in opposition would continue to criticise the project and doubt that it would ever come to fruition until the doors actually open on the very first day. Until then, he said, the opposition will always speak in "ifs and buts".
Valcárcel maintained that investors are continuing to express an interest in the project and that he has every confidence in the future success of the project.
Earlier in the week the Minister for Tourism confirmed that constuction at the Paramount Theme Park will commence on the 15th of January.