€35 million financial claim hangs over Castellon Airport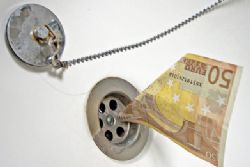 Aerocas - the concession holder of Castellon Airport - and their majority shareholder, the Generalitat Valenciana, are still trying to reach a settlement with Airport Concessions after releasing them from their contract to operate the airport earlier this year.
Airport concessions in turn sued the regional government for breach of contract, claiming damages of €35 million.
This issue was foremost on the agenda of the meeting of Airport concessions on Friday of last week, as the board discussed the financial accounts of the company for the year 2010.
With Carlos Fabra - the President of Aerocas - proclaiming that Castellon Airport will be operational from the 1st of January 2013, it leaves very little time for a financial settlement to be decided upon.
Perhaps more importantly, after the Region of Valencia has already pumped Millions of Euros into the project, it begs the question "Now faced with paying compensation to Airport Concessions : How much more will the Valencian tax payer be forced to contribute ?".