Spain's Police Officers Protest Against Cuts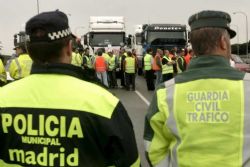 In a curious display of hypocracy and double standards that could only happen here in Spain, the capital saw a second protest March yesterday, following the demonstrations on Wednesday as part of the General Strike.
During Wednesday's various protest marches around 140 participants were arrested, with an estimated 80 demonstrators and 50 Police Officers being injured after a number of violent clashes.
However, it was the Police themselves who marched through the streets yesterday in protest over forced redundancies and Salary cuts.
Around 5'000 Police Officers gathered in Madrid to take part in the protest, where it seems that the irony of the situation was not lost on the partcipants : "Citizens! Forgive us for not arresting those truly responsible for this crisis: bankers and politicians," one banner read.
The General Secretary for the SUP Police Officers Unions explained to the crows gathered outside the Ministry of the Interior "Each year, between 1,500 and 2,000 police officers retire and 125 are recruited, which means in 3 or four 4 years, there will be more insecurity and crime in Spain".