Spain's new tax law bans cash payments of more than €2,500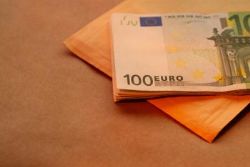 As of this morning, Spain began a ban on all payment in cash for anything over the value of €2,500 in a bid to combat tax evasion.
This new legislation will be applied when at least one party in any such transaction "acts in a professional or commercial capacity".
The new law, which was passed on October 30th, notes that "The social and economic reality in a situation of crisis and budgetary austerity makes tax fraud today even more reproachable than ever."
Cash payments for a variety of goods and services - popularly known as Black Money have been nortoriously widespread across Spain for many years as a means of tax-avoidance. Now PM Mariano Rajoy hopes that the EU's largest generator of untaxed earnings could recover some of the estimated €245 Billion - equating to 23% of GDP - and avert the need for a 2nd bailout.
Economists estimate that the value of tax avoidance in Spain in around 10% more than the EU average.
While the new cash ban doesn't affect purely personal transactions - such as buying a second-hand car or home from another private individual - it does extend to non-commercial transactions when the buyer is fiscally resident in another country. In that case the cash limit increases to €15,000.
Both buyers and sellers must keep receipts for 5 years. Violations, including dividing a deal up into pieces smaller than €2,500, will be considered "serious" infractions of administrative law, not criminal acts.
The ban won't be applied to the repayment of principal and interest to banks.