Spain "Will need less than €40 bln aid"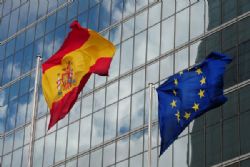 Spain will probably tap less than €40 billion of aid from the euro zone's rescue fund to help recapitalise its banks, Deputy Economy Minister Miguel Temboury said on Monday.
Spain has agreed a credit line that could provide up to €100 billion in euro zone rescue funds for its banks.
"It seems likely that we need less than €40 billion," Temboury told a conference in Brussels, although he declined to give more details.