Population of Spain expected to fall 10% by 2052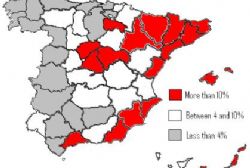 The National Institute of Statistics (INE) has today reported how the population of Spain is expected to decrease by around 10% over the course of the next 40 years.
The downward spiral is expected to start as from this year, with population numbers declining for the first time since 1971.
The report concluded that the birth rate will fall progressively from 46 million in 2012, to 45 million by 2022 until reaching 41.5 million in 2052.
The birth rate is expected to continue to fall between now and 2030, then return to growth for a decade before contracting for a further decade.
The number of births forecast for 2021 is 375,159 - 20% lower than 2012. For the decade until 2031, 7.7 million births are expected, 9% less than the previous 20 years.
At the other end of the scale, life expectancy is expected to continue increasing to reach an average of 86.9 years for men and 90.7 years for women by the year 2051.
The INE report also shows how the ongoing financial crisis has prompted 558'175 Spanish residents to leave Spain compared with 376'696 arrivals. The report expects a further 5.2 million residents to leave Spain over the next 10 years, rising to 18.1 miilion by 2052. There will be some redress however, with an estimated 3.9 million people arriving over the next decade, rising to 16.7 million by 2052.
Southern Spain, the Canaries and the Balearics are the only areas expected to see any growth in numbers, with Galicia, Castilla y León, Asturias, the Basque Country, Aragon, Extremadura, Cantabria and la Rioja seeing their numbers slide.