Iberia to make cost savings on salaries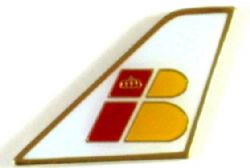 Spain's flagship airline Iberia , battling low-cost rivals, high-speed trains and deep recession at home, said on Tuesday it needed to cut labour costs by 1/3rd to become competitive.
Owner IAG (International Airlines Group) announced earlier this month it would slash 4,500 jobs at Iberia, almost 25% of its workforce.
"Our labour costs are around €1.3 billion per year and they have to come down by around €450 million," said Chief Executive Officer Rafael Sanchez Lozano.
Iberia aims to achieve operating profit of €300 million in 2015, Sanchez said, and will likely report a loss of around €300 million in 2012.
IAG, which was formed by the 2011 merger of British Airways and Iberia, said earlier this month it hoped a restructuring plan for the Spanish airline would improve profit by at least €600 million in the next 3 years.
In addition to job cuts, IAG said it would cut network capacity by 15% in 2013, focusing on profitable routes and downsizing its fleet by 25 aircraft.
Earlier this month Iberia confirmed that they will persue a takeover of Spanish budget airline, Vueling , who they already hold a 46% stake in.