Castellon Airport "Famous in China"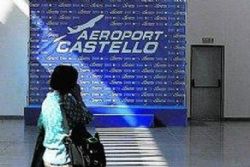 The President of Aerocas - the concession holder of Castellon Airport - defended the decision not to attend and exhibit at the FITUR International Tourism exhibition in Madrid next February.
Carlos Fabra claimed that such promotions were "not very important", and that "our detractors have made such an impact that our airport is already known even in China."
According to Fabra, it is more important to focus all efforts to within the region of Valencia, but he acknowledged that it would be difficult to compete with the likes of Alicante's El Altet airport - partly because of the well-established infrastructure, and partly because the destinations of Torrevieja, Benidorm, Calpe, Altea and Javea are so popular with international tourists.
Fabra conceded that Castellon was currently only really popular with domestic tourists, and that the focus should now turn to developing attractions and facilities for to attract foreign visitor to the province.
Read further Castellon Airport news by clicking the link >> HERE <<.