Happy Anniversary Sr Rajoy !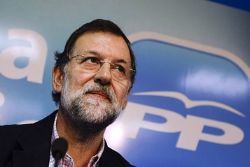 Today - The 20th of November - marks the one year anniversary of Mariano Rajoy's landslide victory in the country's general election.
The inevitable victory of the PP was perhaps due to no other reason that they 'were not the PSOE', and that the defeat of the ruling Socialist Party was no more than punishment for their failure to steer Spain clear of the economic crisis.
The result of the 2011 general election saw the PSOE lose 59 seats in parliament, over than 5 Million votes and brought their worst ever loss of votes since Spain's return to democracy.
However, the alarming trend of the number of citizens seemingly losing patience with politicians and the political system altogether continued from from the local elections held earlier in the year.
A total of 34'952'313 Spanish citizens were eligible to vote in the 2011 general election. Of this number 24'590'557 actually returned a valid vote (70%), with 9'710'775 abstaining from the vote (28% ), 333'095 submitting a 'no vote' (1%) and 317'886 returning a void ballot paper (1%).
With the benefit of 1 year's hindsight would these abstainers have made the same choice to withhold their vote ?
Days after being elected into office Mariano Rajoy spoke of his inability to "Perform Miracles" - this much was expected - however the policies of the PP have been unable to halt the worsening financial crisis.
In his Inaugral Speech , the PM declared that he would work to "put Spain at the head of Europe", but instead he has put the country at the mercy of the ECB, IMF, European Commission and other EU member states.
As such, a recent poll of public opinion found that 71% of respondents disapproved of Rajoy's rule, and 84% said he inspired little or no confidence.