Spain deficit for Jan-Oct 3.9%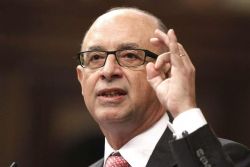 Spain's Treasury Minister Cristobal Montoro said the central government deficit for January to October was 3.9%, unchanged from last month, and on track to hit a target of 4.5% by year-end.
The figure, equivalent to €41.2 billion does not include extraordinary items such as early transfers of funds to the country's 17 autonomous regions.
"This puts us on the right path to meet the target for the end of the year," he said earleir today.
Central government deficit does not include the country's pension or social secutiry system.
Meanwhile, earlier in the day the Governor of the Bank of Spain, Luis Maria Linde, announced how he expected Spain to miss it's budget deficit targets for the end of 2012 and 2013.