Spain seeks funds for 2013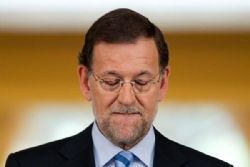 Spain will start tapping markets on Thursday for money to cover its 2013 financing needs, a burden that many investors think will eventually force it to seek aid from its euro zone partners.
After meeting this year's financing needs on November 8, Spain will sell 3 bonds todayy, seeking to raise between €2.5 billion and €3.5 billion.
The country's funding needs rise to €207 billion in 2013 from €186 billion this year, but could go higher still if the government overshoots its deficit target of 6.3% of GDP this year and 4.5% next year.
The central government is also expected to help struggling regional governments, cut out of debt markets, which could add a further €40 billion.
"Spain missing its deficit targets could see issuance projections revised higher which could put greater strain on the (Treasury) as it bids to retain primary market access," analyst at 4Cast Jo Tomkins said.
"The market is all too aware of the tough challenges that lie ahead for Spain but it seems the lion's share in the market are reading bad news as motivation for a Spanish aid request."
Spain's economy has been in recession for a year, the second since 2009, and is not expected to return to growth until late next year at the earliest. Some 25% of Spanish workers are unemployed and deep spending cuts and tax hikes have fuelled increasingly violent protests across the country.
However, Spain's risk premium versus Germany has fallen to around 430 basis points from above 650 bps since the ECB said it would buy up debt on the open market to hold down interest rates for any country that signs up for aid.
Madrid has said it wants to be sure the ECB measure would reduce financing costs, citing a spread of 200 bps as more representative of economic fundamentals, though the bank's head Mario Draghi said he could not make such a promise.
Spain has raised funds on the market this year but has had to pay investors increasingly high yields. However, market pricing suggests yields on Thursday will be similar to previous auctions for the bonds on sale, which mature on October 31, 2015, July 30, 2017, and April 30, 2021.