Spain's Ferrovial renews Heathrow ownership pact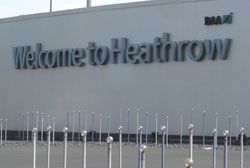 Spain's Ferrovial has signed a new shareholders' pact in Heathrow Airport Holdings that opens the door for the infrastructure firm to cut its stake to 20%, a company official said on Thursday.
The new agreement follows the purchase of stakes in Heathrow, formerly known as BAA, by Qatari and Chinese funds, as Ferrovial has sold 16% of its stake over the past year to reduce its holding to 34%.
The new shareholders' pact allows Ferrovial to sell further stakes in the airport group without offering its partners the option to sell their shares as well, and could pave the way for existing investors to up their stakes or for new investors to buy into the operator.
According to Espirito Santo Investment Bank, Ferrovial must keep a stake of at least 25% for now and at least 20% from 2019, when a £600 million credit line matures.
If Ferrovial's stake dropped below 20%, the buyer would have to make an offer for 100% of Heathrow.
"This may raise hopes that Ferrovial could continue to sell down stakes in Heathrow, which we think is value-enhancing if the price is similar to recent transactions," Espirito Santo said in a research note.
Ferrovial, which has been on a debt-cutting drive, has said it may use the proceeds from the sale of Heathrow stakes for investments or dividends. The company is expected to decide its dividend payout at the end of November.
For now, a Ferrovial official said the company was comfortable with its stake in Heathrow, in line with its goal to be the airport group's main shareholder and industrial partner.