Catalan President Implicated In Cash for Favours Scandal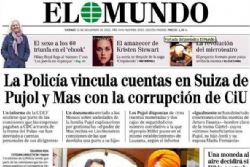 Catalan President Artur Mas has been implicated in an offshore tax and cash for favours scandal according to an exposé by online Spanish newspaper El Mundo.
The report refers to a Police anti-corruption investigation which fingers his involvement along with former Catalan President, Jordi Pujol.
It has been alleged the pair received commissions either directly or indirectly from businesses wanting to win public contracts.
Large sums of monies were discovered in Swiss and Liechtenstein bank accounts linked to the pair and members of their families, which it is assumed, are not being taxed by the Spanish state.
Both Artur Mas and Jordi Pujol have dismissed the claims as 'lies' and launched legal action against the journalists involved.
The controversial regional president, who is standing for re-election on Sunday, 25th November 2012, has angered many in the political community by yielding the 'Independence' sabre in an attempt to gain public support.
The revelation that he may be involved in corruption will no doubt infuriate honest, ordinary hardworking Catalan voters.
Whilst independence sentiment is strong in the region, good, clean and honest politics will be the requirement come voting time.