Catalan election weakens bid for independence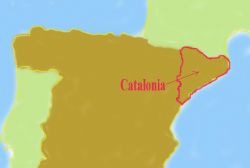 Separatists in Spain's Catalonia won regional elections on Sunday but failed to get a resounding mandate for a referendum on independence, which had threatened to pile political uncertainty on top of Spain's economic woes.
Catalan President Artur Mas, who has implemented unpopular spending cuts, had called an early election to test support for his new drive for independence for Catalonia, a wealthy but financially troubled region in northeastern Spain.
Voters frustrated with the economic crisis and the Spanish tax system, which they claim is unfair to Catalonia, handed almost two-thirds of the 135-seat local parliament to 4 different separatist parties that all want to hold a referendum on secession from Spain.
But they punished the main separatist group, Mas's Convergence and Union alliance, or CiU, cutting back its seats to 50 from 62. That will make it difficult for Mas to lead a united drive to hold a referendum in defiance of the constitution and the central government in Madrid.
"Mas clearly made a mistake. He promoted a separatist agenda and the people have told him they want other people to carry out his agenda," said Jose Ignacio Torreblanca, head of the European Council on Foreign Relations' Madrid office.
The result will come as a relief for Spanish PM Mariano Rajoy, who is battling a deep recession and 25% unemployment while he struggles to cut high borrowing costs by convincing investors of Spain's fiscal and political stability.
Mas, surrounded by supporters chanting "independence, independence", said he would still try to carry out the referendum but added that, "it is more complex, but there is no need to give up on the process."
Resurgent Catalan separatism had become a major headache for Rajoy, threatening to provoke a constitutional crisis over the legality of a referendum just as he is trying to concentrate on a possible international bailout for troubled Spain.
Catalonia shares some of its tax revenue with the rest of Spain and many Catalans believe their economy would prosper if they could invest more of their taxes at home. The tax issue has revived a long-dormant secessionist spirit in Catalonia.
Mas had tried to ride the separatist wave after hundreds of thousands of people demonstrated in the streets in September, demanding independence for Catalonia, which has its own language and sees itself as distinct from the rest of Spain.
In a speech to supporters on Sunday night Mas recognized that he had lost ground and though CiU is still the largest group in the Catalan parliament, he said he would need the support of another party to govern and to pass harsh austerity measures. "We've fallen well short of the majority we had. We've been ruling for two years under very tough circumstances," he said.
Catalonia's traditional separatist party, the Republican Left, or ERC, won the second biggest presence in the Catalan parliament, with 21 seats. The Socialists took 20 seats. And Rajoy's centre-right People's Party won 19.
Three other parties, including 2 that want a referendum on independence, split the remaining 25 seats. ECFR's Torreblanca said the Catalan elections were similar to those around Europe in that economic woes have benefited marginal political groups, while larger, traditional parties have lost ground.
MAS MADE BIG BET
Mas's bet on separatism may have helped the big winner of Sunday's election, the Republican Left, which more than doubled its seats in the Catalan parliament to 21 from 10.
"He talked about it so much that he ended up helping the only party that has always been for independence, which is the Republican Left," said political analyst Ismael Crespo at the Ortega y Gasset research institute.
Mas's CiU had always been a pro-business moderate nationalist party that fought for more autonomy and self-governance for Catalonia without breaking away from Spain.
Mas broke with that tradition in September when he made a big bet on a referendum, tapping into a centuries old Catalan dream of independence that is rooted in the Middle Ages when there was a Principality of Catalonia.
Modern day Catalonia, with 7.5 million people, is more populous than Denmark. Its economy is almost as big as Portugal's and it generates 20% of Spain's GDP.
Since Spain returned to democracy in the 1970s after the Francisco Franco dictatorship regions like Catalonia and the Basque Country, which also has its own language, won significant autonomy.
For several decades the Catalan independence movement had died down. But it has flared up again in the economic crisis.
The momentum has been inspired in part by Scotland's plans to hold a referendum in 2014 and by the break away movement in Flanders. But it could subside as voters contemplate the economic realities of independence especially if the price to pay is leaving the EU.
Wary that separatism could spread to the Basque Country and beyond, Rajoy said this week that the Catalan election was more important than general elections.
Home to car factories and banks and the birthplace of surrealist painter Salvador Dali and architect Antoni Gaudi, the region also has one of the world's most successful football clubs, FC Barcelona.
SPENDING CUTS HURT MAS
After a decade of overspending during Spain's real estate boom, Catalonia and most of the country's other regions are struggling to pay state workers and meet debt payments.
Mas was one of the first Spanish leaders to embark on harsh austerity measures after Catalonia's public deficit soared and the regional government was shunned by debt markets. He has also had to take billions of euros in bailout funds from the central government.
Josep Freixas, 37 and unemployed, voted for CiU but recognized the party had lost seats "because people have been really affected by the spending cuts and by the crisis."
At CiU headquarters on Sunday night Freixas carried a rolled up pro-independence flag - a single star against yellow and red stripes - that has become a symbol of the separatist movement.
Turnout was very high in the election, 68%, 10 percentage points higher than in the previous vote 2 years ago.
Raquel Correa, a 30-year-old journalist, said she travelled home from Brussels for the vote. She cast her ballot for Republican Left, or ERC. "I think people who want independence voted ERC because they are the real thing. They have fought for independence for a long time."