Spain to tap €40 billion in EU funds for banks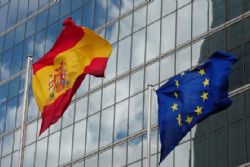 Spanish Economy Minister Luis De Guindos confirmed on Monday that the country's government would request around €40 billion in European financial aid for its troubled banks.
"For the nationalized banks (...) the amount is going to be around €37 billion. In all, we are talking about €40 billion, which is the number we have always had in mind, about 3.5% of GDP," he told reporters in Brussels.
The total takes into account a public capital injection for the bad bank and some limited capital needs for banks which have not been fully nationalized.
Spain was granted up to €100 billion of aid in June as part of a euro zone rescue fund to clean up a banking sector crippled since a property bubble burst 5 years ago. Newspapers and ministers have talked about an initial tranche of around €40 billion that had until now not been officially confirmed.
Bankia, which sought a €23.5 billion bailout from the state in May, is expected to take the majority of the bailout money. The other 3 already nationalized lenders are Novagalicia, CatalunyaCaixa and Banco de Valencia.
El Pais reported on Monday that apart from the €37 billion to be disbursed to these 4 lenders €2.5 billion would be injected to capitalize the recently-created bad bank, known as SAREB.
The newspaper said an additional €2 - €3 of EU funds would be used for other banks that may need public money.
On Sunday, El Pais said European authorities would transfer €35 billion to Spain's state bank rescue fund on December 15 in exchange for massive lay-offs at the 4 nationalized banks.
This followed comments by Spain's deputy economy minister Miguel Temboury last week that the country would probably tap less than €40 billion of aid from the euro zone rescue fund.