OECD warns against extra austerity measures in Spain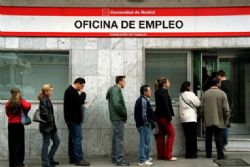 Spain will miss targets for cutting its budget deficit through to 2014 due to persistent recession and more austerity measures would only make the problem worse, the OECD said on Tuesday.
The Organisation for Economic Co-operation and Development predicted Spain's economy would contract by 1.3% this year, and by 1.4% next year, brought down by a euro zone recession and the effects of the spending cuts and tax hikes it has already made.
Its forecast for next year was in line with those of private economists, and nearly 3 times the 0.5% contraction forecast by the government.
Spain will try to shrink spending with measures worth over €60 billion to 2014 to try to convince investors that it is bringing its finances under control.
The economy, the euro zone's 4th largest, has been hovering on the brink of the bloc's sovereign debt crisis.
"Fiscal consolidation is expected to have stronger than usual effects on growth in this credit-constrained environment, which militates against taking further measures to hit headline targets, especially if growth turns out much weaker than government plans," the OECD said in its economic outlook.
The OECD forecast Spain's deficit at 8.1% of GDP this year, narrowing from 9.4% last year but missing the state's 6.3% target. Next year it saw the deficit at 6.3%, missing a 4.5% goal.
Spain's economy was projected to climb out of recession in 2014, but grow by just 0.5%, with unemployment rising to 26.9% in 2013, from 25% this year, and stuck at 26.8% in 2014.
The OECD urged the government to keep up reforms aimed at making the economy more competitive and to finish restructuring its banking sector.
It held out hope that Spanish gains in cost competitiveness and export share may be even stronger than expected, helping to alleviate next year's downturn.