Spain unemployment to hit 26.9% in 2013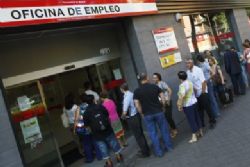 Unemployment levels in Spain are predicted to reach 26.9% by the end of 2013, according to a report released yesterday by the Organization for Economic Co-operation and Development (OECD).
The estimation places more than 6 million people out of work before 2014 due to the worsening economic climate.
The report goes on to place the level of unemployment for 2012 at 25%, but following peak unemployment levels in 2013, it expects a very slight drop - from 26.9% to 26.8% - in 2014.
The latest predictions for 2012 are slighly better than feared in a similar report published in May, but the 2013 forecasts are considerably worse.