Iberia Airlines to hold 6 days of strike action before Xmas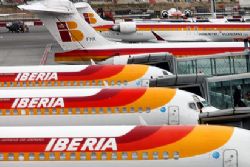 A number of labour Unions have spoken of their support for several days of strike action to be held by Iberia Airline employees.
The planned 6 days of strike action are expected to take place on the 14th of December, and then again between the 17th and 21st of December.
As with similar strike action which took place last December, the protests is planned to hit at one of the busiest times of the year, and is intended to draw attention to that airline's planned 4'500 job cuts.
Iberia's parent company, International Airlines Group (IAG), insist that cutting 23% of it's workforce in Spain is a necessary measure if the airline is to remain competetive and survive in the current economic climate.
Last year's action began before Christmas and continued through until Easter over the airline's plans to launch the Iberia Express low-cost subsidiary. Employees at the time were concerned that this would lead to salary cuts and redundancies.
Francisco Rodriguez, for the Spain's largest Union - the UGT - said today how that the strikes were to protest "the unnecessary layoffs of workers."
The SEPLA Pilot's Union is not supporting the strike.