Ryanair cuts 12% of flights to Spain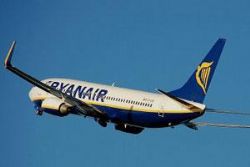 Ryanair have announced that an estimated 650 flights per week to and from Spanish airports will be cut as from next summer.
As of March 31st 2012 - when the Summer airline schedules begin - the airline will cut their Madrid operations by 35% and their Barcelona operations by 23%, resulting in an overall 12% cut in services.
The move, which is expected to result in the loss of around 4'500 jobs, is as a direct result of airport taxes being almost doubled at Madrid-Barajas Airport and Barcelona's El-Prat Airport earlier in the year.
Ryanair's Deputy Chief Executive, Michael Cawley defended the move, telling the press "Ryanair objects to the Spanish government's decision to double airport taxes at both Madrid and Barcelona airports and increase airport charges at many other Spanish airports".
"Sadly, this will again lead to severe traffic, tourism and job cuts at both Madrid and Barcelona airports this summer as part of a 12% overall reduction in Ryanair's Spanish operations.
"Ryanair's traffic cuts will cause a combined loss of 3.1m passengers and over 3,100 jobs at Madrid and Barcelona El Prat, while other airports elsewhere Europe offer lower costs, where Ryanair continues to grow.
"These route and traffic cuts can be reversed but only when the Spanish government and its already high cost airport monopoly AENA reverse these unjustified tax increases and reduces its high airport charges, in order to stimulate tourism."
By coincidence, the same number of job losses were announced by IAG owned Iberia Airlines last month in their bid to streamline the company in a bid to be more competetive.