Mortgage eviction moratorium to help 25% fewer families than claimed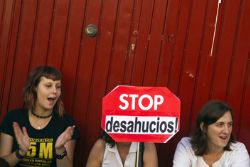 Following the bill passed in Parliament on the 15th of November, Finance Minister Luis de Guindos told Congress today how the moratorium on property evictions would be likely to benefit 120'000 families.
This news came despite the initial estimate that it would benefit 600'000 families.
De Guindos explained that the moratorium will only apply to families whose mortgage payments make up 50% of the combined household income.
"The moratorium is the government's emergency, palliative response to the most dramatic situations, involving especially vulnerable groups of people, who not only lost their jobs but also their homes. We cannot adopt measures that alter our legal system, which is based on the principle of universal asset ownership, and which has allowed many people access to home-ownership."
The Banks have made around 6'000 affordable properties available for rent, which the government will give to people who have been evicted due to being unable to afford their mortgage repayments.
However spokesperson for the PSOE opposition, Soraya Rodriguez, said how the Socialists will vote against making the moratorium into law, calling it "meager, arbitrary and unjust". Instead the PSOE suggest a measure allowing insolvent homeowners a chance to renegotiate their mortgages, "so that families can pay them, maintaining the use and ownership of their homes".
This follows the news that a 4th mortgage evictee commited suicide in Navarra earlier today.