1.1 Million unemployed foreigners in Spain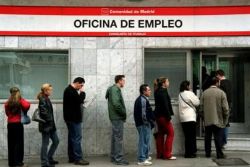 The results of a study compiled by the Spanish Association of Employment Agencies - AGETTES - has revealed how the number of foreign jobseekers in Spain has tripled in 5 years.
In Q3 of 2007 - before the onset of the economic crisis - there were "just" 380'000 unemployed foreign residents. By Q3 of 2012 the figure had increaed to 1.1 million - or 20% of the 5,778,100 jobless recorded by the National Institute of Statistics (INE).
The majority of foreign unemployed workers are male, aged between 25 and 44, with 57.6% being illiterate. Only 15% of foreigners with a university education are unemployed.
The study made no mention of, or accounted for the number of foreigners working illegally in Spain.