Ryanair introduce 2% credit card fee from 30th Nov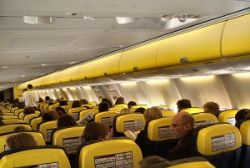 Ryanair has announced that "in order to comply with the UK Office of Fair Trading's recent ruling on credit card fees it will introduce an avoidable 2% credit card processing fee on all new credit card bookings made from 30 November, to cover credit card payment costs."
The statement went on to read that the 2% credit card fee can be avoided by using debit cards - including Ryanair Cash Passport cards.
Furthermore, the €6 / £6 admin fee will apply to all new bookings made from 30 November, except those bookings made using a Ryanair Cash Passport in Ireland, Germany and Spain, where admin fees can be avoided until 1 February, 15 February and 21 March 2013, respectively.
The statement explained that "This will bring all of Ryanair's European operations in line with its UK procedures, following the OFT's ruling".
The OFT carried out an investigation into airline charges earlier this year and consequently ruled that passengers should not be charged extra to pay by debit card as this was the equivalent of using cash online, however it said airlines "could charge extra for credit card payments as long as they were upfront about the fees."