Spain makes changes to Citizenship procedure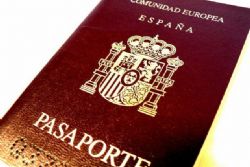 The Spanish government has ruled that the descendants of Sephardic Jews expelled from Spain in 1492 will be able to obtain Spanish Citizenship . This will be awarded regardless of their current nationality, on provision that they acquire proof and support from the Spanish Federation of Jewish Communities.
The ruling was finalised last week by Minister for Justic, Alberto Ruiz-Gallardón, and the Foreign Minister, José Manuel García-Margallo.
The new legal procedure changes Spain's 1982 Civil Code which allows Sephardi Jews to gain Spanish Citizenship - but only after having lived in Spain for a minimum of 2 years. The new law will be ratified shortly by Royal Decree.
There are an estimated 3 Million Sephardic Jews around the world. Most live in Israel, the USA, France and Turkey but there are also communitees in Spanish speaking countries like Argentina, Mexico and Chile.
The Madrid ruling was welcomed by Sephardi communities worldwide. Osvaldo Sultani, of Argentina's 60,000-strong Sephardi Federation - the largest in Latin America - said: "This measure, which we have been requesting for so many years, fills us with joy. It is an honour for all Sephardim and represents recognition for a people who have never forgotten Spain in 520 years and have never forgotten their language."