Ryanair threaten to leave Alicante for Corvera Aiport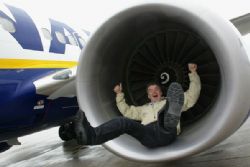 Earlier this week AENA repeated it is unwilling to have a flexible approach to Ryanair's request to allow passengers to disembark it's aircraft by foot at Alicante's El Altet airport.
The news prompted the Airline's CEO Micheal O'Leary to threaten to move all Rynair operations the soon to open aiport at Corvera, some 80km away.
Although this is clearly nothing more than Ryanair playing each facility off against one another, it could mean that Corvera begins operations next year with an estimated 600'000 passengers per year who had previously flown with Ryanair to Alicante airport before travelling on to the Murcia region.
The new Terminal building at El Altet, which opened in March 2011, is unable to accomodate disembarking on foot on all but a few gates due to health ans saftey concerns. However, speculation has been abound that the the old disused terminal building 'could' be adapted specifically for use by Ryanair, who have flown as many as 1.5 million passegers to Alicante in previous years and are still the airports no.1 airline, despite cutting an estimated 300 flights per week during summer of 2012.
The new terminal building at El Altet was built to accomodate 20 Million arrivals per year, however passenger number for both 2011 and 2012 have fallen short of 10 Million. Although Ryanair are thought to be responsible for the loss of around 300'000 passengers this year due to cancelled routes and frequencies of flights, the suspension of all Ryanair operations would have a devastating effect on the airport and on the wider economy of the Costa Blanca.
If recent announcements by the regional government are to believed, Corvera airport may be operational as soon as April 2013.