Caixabank signs insurance deal with Berkshire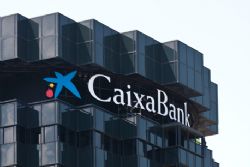 Spain's Caixabank said it sealed a reinsurance agreement for the transfer of its life insurance portfolio to Berkshire Hathaway , the conglomerate run by billionaire Warren Buffett.
Berkshire will pay Caixabank's insurance unit VidaCaixa a fee of €600 million and the Spanish bank will book €524 million in capital gains for the deal, the lender said.
U.S.-based Berkshire Hathaway maintains an active business reinsuring life and health risks internationally through its subsidiary General Re, which accounts for about 15% of the conglomerate's total insurance premiums.
The business has been profitable this year, though much less so than Berkshire's bread-and-butter activities of reinsuring property risk.
In its most recent quarterly report, the company blamed the shortfall on its Australian contracts, while noting results in Europe had been strong.
Because of Berkshire's appetite for risk, it is not uncommon for companies to shed insurance risk to Buffett's conglomerate. Buffett, in turn, gets to grow Berkshire's "float," or the premiums that have been collected but not yet paid out.
That figure stood at €55.3 billion at the end of Q3.