Yoigo escalates Spanish mobile phone war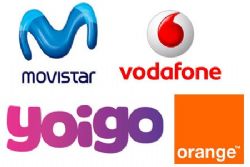 Spanish mobile phone operator Yoigo is cutting tariffs by over 20%, stepping up a price war against bigger rivals Telefonica and Vodafone as they battle over recession-hit consumers.
"We're going to launch a new tariff in December that will put the price of calls at 1 cent a minute, the cheapest offer in Spain," Yoigo chief executive Eduardo Taulet said on Friday.
Yoigo, whose Swedish owner TeliaSonera has put it up for sale, has around 6% of the Spanish market.
It gained 330,000 clients between January and September according to Spain's telecoms regulator, while bigger rivals have suffered record client losses in a deep economic recession.
Yoigo said it would also cut prices for current clients, so those currently paying €39 a month will pay €30.
The company recently brought back subsidies for purchasing smartphones and Taulet said 70% of new customers now opt for tariffs that include subsidies.
After Telefonica and Vodafone said in March and April they would stop offering cut-price smartphones, Yoigo also cut down on subsidies.
Vodafone recently reversed that decision after losing 639,000 clients in Q2 of 2012, leaving Telefonica as the only operator not offering subsidies on a general basis.
Telefonica, which lost 830,000 customers between April and August this year, said it would not back down on its subsidy policy and cut prices by up to 40% in October with fixed line, mobile, Internet and television bundles.
Yoigo currently offers phones using the Android platform worth €500 for €360 euros, paid over 12 months.
France Telecom and Vodafone are said to be among the bidders for the company.