Spanish Unemployment "Already above 6 Million"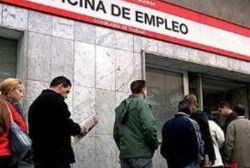 Unemployment figures in Spain are already above the unprecedented level of 6 million, according to figures released Friday by the European Union's statistics office Eurostat.
The OECD on Thursday predicted the number of Spain would surpass 6 million next year and remain above that level for the next 2 years.
Eurostat said the jobless rate in Spain in October rose to 26.2%, the highest figure in the EU, from 25.8% the previous month. That compared with a figure of 11.7% for the euro zone and 10.7% for the EU, up 0.1 points in both cases from September. The jobless rate in Portugal climbed to 16.3% from 16.2%.
Eurostat bases its calculation for the jobless rate in Spain by making a monthly extrapolation corrected for seasonal effects of the National Statistics Institute's quarterly Active Population Survey (EPA). The latest EPA for Q3 of this year showed the number of people out of work at 5.778 million and a jobless rate of 25.02%. On that basis, the ranks of the jobless swelled to 6.076 million in Spain in October.
According to the Eurostat, the total number of people out of a job in the EU was 25.913 million, of whom 18.703 million were in the euro zone. That represented an increase in the case of the EU compared with September of 204,000, and 173,000 for the single-currency bloc.