Castellon Airport test flights scheduled forJanuary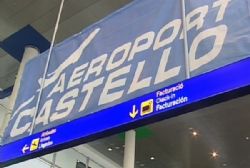 The Region of Valencia's Minister for Tourism, Lola Johnson, announced earlier this week that the first 2 weeks of January will be spent finalising airpsace permits, with the following 2 weeks of the months being spent on carrying out test flights.
The Minister was speaking in reply to a question put to her by socialist MEP Eva Martinez in the regional parliament, when she demanded to know when the airport would be operational.
Johnson confirmed that, whilst the procedural requirements were "complex", they were already at an advanced stage.
Agreements have already been made with agencies such as the State Security Forces, the State Meteorological Agency (AEMET) and firefighters, to plan a final opening date.
Martinez also commented that, after escalating costs and several broken deadlines, Carlos Fabra - the President of the company behind the airport - should be tried on corruption charges if the airport is not operational by the end of January.
Fabra had previously stated that the first flight at the airport would arrive on January 1st .
Johnson also confirmed that AENA will be visiting the airport during the first 2 weeks of December to assess the airport.
Read further Castellon Airport news by clicking the link >> HERE <<.