Spain begins countdown to El Gordo 2012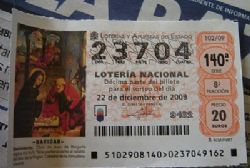 Tickets for Spain's world-famous Christmas Lottery 'El Gordo de Navidad' are now on sale, where winners of the draw can share in a prize fund totalling €2.52 Billion.
Tickets are sold from Spain's 4'100 Offical 'Loterias y Apuestas del Estado (LAE)' kiosks, however tickets can be purchased online, although the buyer is recommended to scrutinize the legality and smallprint of any such purchase agreement - and the cost paid.
>> Play the Spanish Christmas Lottery NOW - Click for more info <<
There are only 100,000 tickets printed, each with 180 copies, each copy has 10 shares, known as "Decimas", which adds up to a total of 180 Million decimas - each of which can be purchased for €20.
Quite often club, societies and communities will sell further shares in a collection of Decimas for a smaller sum.
On the day of the draw - 22nd December - the numbers are selected in the form of balls with a 5-digit number on them being drawn from a barrel. Once the ball is chosen, the prize is selected from another barrel, and children from San Ildefonso School, the oldest school in Madrid sing out the numbers to a panel of adjudicators.
With the top prize being €4 million - to be divided by the number of Decimas owned (usually 10 induviduals, but in some cases one person can own all 10) - the odds of winning the jackpot are 1:100'000. The odds of winning any of the prizes are 1:7.
More on How to Play the Spanish Lotteries by clicking the link >> HERE << .