Spaniards lose faith in political leaders in crisis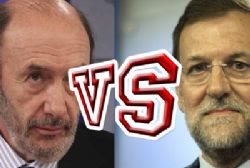 Spaniards are losing trust in their political leaders as the ruling center-right government imposes spending cuts to try to meet a difficult deficit target, a survey published on Sunday in the country's leading newspaper El Pais showed.
Rajoy's Partido Popular came to power at the end of 2011 and has introduced over €60 billion of spending cuts to end-2014. Europe's 4th largest economy is suffering its 2nd recession in 3 years and the unemployment rate stands at 25%.
More austerity is likely to make matters worse as Spain tries to avoid the downward spiral suffered by Greece and Portugal, both of which needed international bailouts.
Almost 90% of Spaniards see the country's political situation negatively, the Metroscopia poll showed, while 85% have little or no faith in PM Mariano Rajoy.
71% said they disapproved of him, a rate 20 percentage points higher than in March. Support for the government has tumbled since then, though it picked up slightly in November.
The poll, carried out on November 28 and 29, interviewed 1,000 people across Spain. It showed 68% of people think the government does not know what it is doing and is improvising, slightly down from 70% in last month's poll.
The survey was conducted before the government broke another election campaign pledge on Friday to save cash by not raising pensions in line with inflation, a move likely to make the government even more unpopular.
Rajoy said in a newspaper interview on Sunday that meeting the EU-agreed deficit target of 6.3% for 2012 was "very complicated".
Other political parties fared little better57% percent of those surveyed thought Catalan leader Artur Mas should resign after his party failed to secure the "absolute majority" he asked for in regional elections.
81% of PSOE voters said they distrusted leader Alfredo Perez Rubalcaba.
The survey showed the PP would still win a general election, with 31.3% of the vote - far below a 46.4% peak in March.
Support for smaller parties is growing - United Left would secure 13.% of the vote compared to 7.7% in January, while centrist party Union, Progress and Democracy would win 10.2% of votes, up from 4.6% in January.