Disabled protest in Spain over austerity measures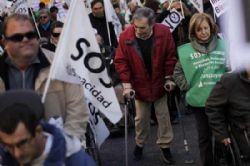 Thousands of disabled people and their families marched in Madrid on Sunday against benefit cuts, joining Spain's swelling protest movement over austerity measures.
Many were in wheelchairs. They carried signs saying "SOS" and chanted "Disabled people, abandoned" as they made their way through the center of the capital.
The ruling center-right government has introduced more than €60 billion worth of spending cuts since it took power at the end of last year, which have reduced payouts to Spain's 4 million disabled people.
"This is a historic day. Disabled people have never taken to the streets before. We're out here now and we're not going back," said Luis Cayo, president of Spain's Committee of Representatives of People with Disabilities.
Protests are held almost daily. Groups including teachers, miners, health workers and students have organized demonstrations against austerity, sometimes attracting hundreds of thousands of people.
Healthcare workers in Madrid went on strike for 2 days last week and some doctors in the region are on strike for an undefined period.
"The cuts are condemning us to social exclusion. This isn't the only thing we need to do but it's a good start," said Monica, 39, who was in a wheelchair and had traveled to Madrid from the northern region of Galicia to attend the protest.
The government is struggling to meet deficit targets and to try to stave off a bailout. Spain received up to €100 billion in aid for its stricken financial sector in June.
Matilde Gomez, who is blind, said disabled people should not be last in line for help. "We are willing to take some cuts but not to this extent," she said.
Spain's PM Mariano Rajoy said in an interview published on Sunday he could not rule out more cuts. He admitted reaching a EU-agreed deficit target of 6.3% would be difficult, even with the announced cuts.
"The people have to fight and today we have been united," said Maria Agudo, 60, pushing a woman in a wheelchair.
"I don't know if it's going to change anything, but at least it might weigh on their conscience."