Spain Nov new car sales drop 20.3 pct y/y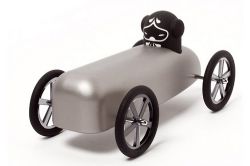 Spanish car sales fell 20.3% throughout last month compared to the same period last year, according to the Spanish car manufacturers' association ANFAC on Monday, after seeing a drop of 21.7% year on year in October.
The Spanish government's new car subsidy scheme, introduced October 1st to stimulate the battered market in the economic downturn, meant sales had fallen by 15 percentage points less than expected, ANFAC said.
The Spanish car industry has been hit hard by the prolonged economic slump and sales have been further hurt by government-backed austerity measures, including a three-percentage point increase in IVA (value added tax) from September 1st.
Spain sold a total of 48,155 cars in November, down from 60,395 units for the same month last year, the association said.