Spain complains to ICSID over Argentina's Repsol seizure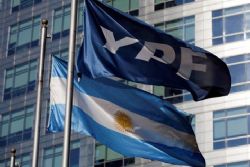 Spain's Repsol SA filed on Monday a complaint against Argentina before the International Centre for Settlement of Investment Disputes (ICSID) over its nationalisation of energy company YPF SA, according to sources familiar with the dispute.
Last May, the Argentine government seized 51% of YPF, the country's biggest oil and gas company from Repsol, accusing the former parent company of underproduction and under-investment.
In its complaint, Repsol calls the seizure unlawful and discriminatory, according to a source who asked not to be named and who had seen a copy of the document submitted to the ICSID.
The Spanish oil giant denied Argentina's charge that it neglected to invest in YPF. The takeover also sparked protests against Argentina from the European Union and other trade partners. Repsol says the 51% of YPF expropriated by the government is worth €7.7 billion.