UGT calls for legal challenge to Spain's Pension freeze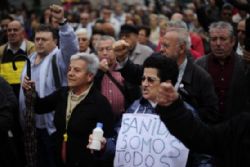 Spain's second-largest workers' confederation announced yesterday that it will call for legal action against the government's decision last week to withhold additional pension contributions that would have compensated retirees for the effects of inflation.
The General Workers Union - or UGT in Spanish - said it believes the move to be 'unconstitutional' and will ask the public ombudsman, as well as groups within Spain's parliament, to raise a legal challenge to that effect.
After last Friday's weekly Cabinet meeting the Government announced it will not be making the extra payments expected by over 5 million of the country's pensioners to adjust for this year's inflation, one of the toughest austerity steps yet in its struggle to slash a gaping budget deficit.
Under Spanish law, pensions should be reviewed each year in line with the inflation data of November, which emerged at 2.9% on Friday. By not applying the rule, the government will save €3.8 billion and keep its EU-agreed deficit target within reach.