Spain to restrict teaching of regional languages in Schools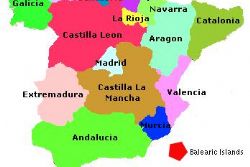 Spain's Minister for Education, Josť Ignacio Wert, yesterday presented the regions with new draft legislation that restricts the teaching of regional languages.
This prompted the immediate response from Catalonia that such a measure would be impossible to apply, and that it was "unconstitutional".
The draft bill proposes a legal obligation on regional governments with two official languages (Galicia, the Basque Country and Catalonia) to ensure that all coursework is offered in both languages "in balanced proportions." If this is not the case, parents must be able to choose one main language for their children's classes, and if there is no satisfactory program in public or publicly subsidized private schools, then regional authorities must "pay the cost" of a private one.
The plan also allows a region to "award differentiated treatment to the co-official language with regard to Castilian Spanish in reasonable proportions, but in no case may it exclude Castilian Spanish."
Although the legistlation is not directed at any one region in particular, Catalans argue that it is another afront to their regional identity.
The government also intends to increase its control over the content of core courses such as maths or history to 65% of all content in bilingual regions.
The draft legislation also reflects the continuing cuts to public education across the country. After firing support teachers and axing special integration classes for newly arrived immigrants, the government plans to cancel a program called PROA, which provides after-school classes for kids with learning problems to help them earn their high school diploma and bring down dropout rates.