Ryanair announces new route from Scotland to Spain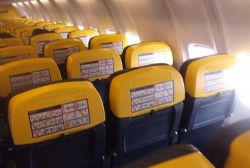 Budget airline Ryanair today announced the introduction of a new route between Scotland and Spain.
As from Summer 2013 the airline will commence flights between Edinburgh airport and Santander, Cantabria, in Northern Spain.
Together with a further 8 new routes from Edinburgh and Glasgow Airports to Italy, Greece and France, Ryanair CEO Micheal O'Leary spoke of how the airline would fly more than 3 Million passengers from Scotland and sustain 3'000 local jobs.
The new routes from Edinburgh Airport are significant because Ryanair reduced its flights from there in February after failing to agree lower costs and charges with operator BAA. The airport is now run by Global Infrastructure Partners (GIP) and Mr O'Leary said further announcements on growth - specifically frequencies of exisiting flights - are likely.
Ryanair already operates flights from Santander to Dublin and London-Stansted airports.