Spanish bad bank to cut smaller banks' capital needs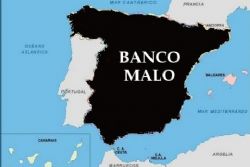 Four small Spanish banks will see their capital needs cut by 75% when they transfer dud real estate assets to Spain's so-called 'bad bank', sources with knowledge of the process said on Tuesday.
The EU last week approved the first phase of recapitalizing Spain's ailing banks - a cash injection of €37 billion into state-rescued lenders Banco de Valencia, Bankia, Catalunya Banc, and NCG Banco and €2.5 billion to set up the bad bank.
A September independent audit of Spain's banking system identified a capital deficit of €6.2 billion at 4 more banks - Banco Mare Nostrum (BMN), CEISS, Caja 3, and Liberbank - in an extreme economic downturn.
Economy minister Luis de Guindos said on Monday these 4 lenders would significantly reduce their cash needs to around €1.5 billion, raising eyebrows at the sharp decline in capital needed.
The transfer of toxic property assets to the bad bank is the key to cutting the capital needs and making the two smaller banks - CEISS and Caja 3 - more attractive to buyers, a source close to the process said.
BMN, with total assets close to €70 billion, and Liberbank, with assets of around €53 billion, hope to remain independent, another source close to the 2 banks said.
While Liberbank expected no state capital injection, BMN's plans include the injection of temporary state aid which, a source close to the bank said, would be unlikely to result in a majority public state stake.
Ibercaja is in talks to acquire Caja 3, with assets of around €20 billion, once its restructuring plans are approved, while Unicaja is in the process of buying CEISS, with assets of around €45 billion.
OVERLY OPTIMISTIC ?
One analyst said the dramatic drop in the capital shortfall needed to be better explained.
"It seems very optimistic that lenders will be able to reduce their needs so drastically ... Basically, they are counting on the bad bank as a key element to reduce the bill," said Juan Pablo Lopez, analyst at brokerage Espirito Santo.
A €1.5 billion bail-out of banks with minor capital shortfalls would put Spain's total needs at €41 billion.
Bank of Spain said it was still too early to give final figures of public capital needs for each of the 4 lenders. The economy ministry would not comment on banks' individual deficits.
The recapitalization plans of the 4 lenders were due to be approved by the Bank of Spain and the European Commission by December 20.
BMN expects to reduce its capital deficit to less than 20% of that identified in the audit after transferring toxic real estate assets, selling industrial share holdings and assets in non-key areas such as the northern regions of Catalonia and Aragon to Banco Sabadell, according to the source close to the bank.
Liberbank plans to raise private capital and sell assets in listed companies, as it has recently done with its stake in Enagas, to cut initial capital needs of around €1.2 billion.
Caja 3 and CEISS, which have a combined capital shortfall of around €1.2 billion, will likely apply for some kind of state aid, they said. While banks have 5 years to pay back state loans, analysts doubt they will be able to do so given Spain's crippling recession.