Healthcare workers hold protest in Senate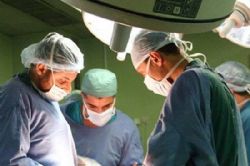 A second round in the healthcare workers strike in Madrid over the regional government's privatization plans began on Today, with protestors dressed in white holding a surprise demonstration inside the Senate.
The total number of strikers differed between the unions and government officials. Madrid's health commissioner said that less than 20% of employees didn't show up for work at primary clinics and hospitals, while the unions, which called the 3rd day in the ongoing strikes "a success", put the absentee rate at 90%.
Workers, who number about 75,000 in the region, are protesting a plan to privatize or outsource services at 6 public hospitals and 27 clinics across the region. Two other 24-hour strikes were held last week.
A group of health professionals took advantage of the Senate's open house to the general public to walk in with visitors and staged a demonstration.