Spanish church offers concessions to unemployed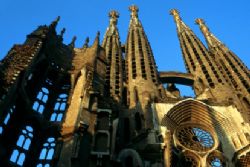 The Spanish Catholic Church, it seems, is not without a little compasion for the millions of the country's unemployed.
Church officials have taken the decision to grant free access to the world famous Sagrada Familia in Barcelona.
The "Building", designed by Catalan Architecht Anton Gaudi, commenced work in 1882 and is not estimated to be completed for at least a further 10 years. Although many refer to the Sagrada Familia as a Cathedral, it is in fact officially a "Temple" or "Basilica".
The goodwill special offer for the unemployed sightseer (or worshipper) will last until the end of this month and can only be used on Wednesdays after 3pm.
Spaniards who have lost their jobs will have to show proof of unemployment in order to not have to pay the 13 Euro cost of the ticket.
This follows news released by Eurostat - the Official Statistics Office for the European Union - that the 'true' number of unemployed people in Spain already stands at in excess of 6 million .