Spain seen as one of most corrupt EU member states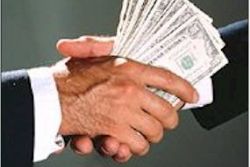 Spain is commonly seen as being amongst one of the most corrupt EU members, and perceptions seem to be getting increasingly negative, an international watchdog said in a report yesterday.
Transparency International's annual Corruption Perceptions Index shows Spain, Portugal, Italy and Greece with the lowest scores in western Europe.
The index measures the perception of corruption in the public sector - but not the financial sector - however, Transparency's Europe director Anne Koch explained how the results clearly indicate that people in the countries worst hit by the crisis perceive corruption to be widespread.
On a scale newly introduced for this year's report, where 0 is "highly corrupt" and 100 is "very clean," over 60% of the 176 countries ranked scored below 50, which Transparency said indicates a widespread need for more openness in public institutions and more accountability for officials.
The survey, which was first conducted in 1995, draws on a variety of sources that capture perceptions of corruption, including World Bank and World Economic Forum assessments, the African Development Bank's governance ratings, and Transparency International's own Bribe Payers Survey.
Afghanistan, North Korea and Somalia were ranked the worst overall on this year's list, all tied with a rating of just 8. Denmark, Finland and New Zealand were thought of as least corrupt with scores of 90.
Canada scored 84, Germany 79 and Japan and the UK tied at 74. The United States was rated 73, and France scored 71.
At the bottom of western European nations, Greece scored a 36, Italy 42, Portugal 63 and Spain 65. All 4 countries are mired in recession, and both Portugal and Greece having received EU bailouts.
Spain ranked behind the UAE and tied equal with Botswana.