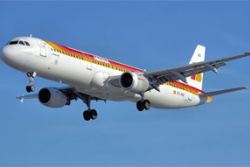 Iberia announced on Friday that it was canceling direct flight routes to Athens, Cairo, Istanbul, Santo Domingo and Havana in January as part of a restructuring plan that includes the layoff of 4,500 employees.
In a statement, the carrier said in mid-April it would also stop flying to Montevideo - which served as a connection point for the Southern Cone nations - and San Juan, Puerto Rico, where connections were made to other Caribbean destinations.
The 5 routes that will be canceled in mid-January "have racked up the biggest losses" for the airline, said Iberia CEO Rafael Sánchez Lozano.
Last month, IAG, the holding company for the merger of British Airways and Iberia, announced the layoffs of 4,500 workers around the world as part of a "comprehensive transformation plan" to make the former flag-carrier into a smaller airline.
After a meeting on Friday between Iberia's unions and the company, the workers decided on Friday to maintain the series of strikes they have convened for the Christmas and New Year's holiday period to protest the job cuts, which amount to 22% of the carrier's labour force. The first day of the planned 24-hour work stoppages is scheduled for Friday.
Iberia said the job cuts, as well as the downsizing of direct routes, are needed to turn the loss-making airline back into a profitable venture.
Once the economy is turned around, Iberia said it will begin adding routes - especially to Brazil, Mexico, Miami, Santiago and Quito, as well as Africa - that are in greater demand.
The government called on the company and its unions to make "one last big effort" to avoid the disruptive industrial action.