Spain "not assured" to reach 2012 deficit target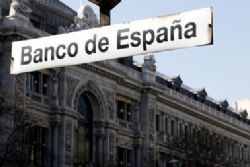 Spain could miss its budget deficit target this year, Bank of Spain governor Luis Maria Linde said on Friday, just a week after the government announced it would hold pension payments flat to curb outlays.
The year-end deficit target stands at 6.3% of GDP, but the country's treasury minister hinted earlier this week that the deficit could end up topping that level.
"The objective is 6.3% but it could be (above that)," Linde told Reuters on the sidelines of a seminar in Santiago, Chile. "It's not completely assured that it will be 6.3%".
Hit by a slump that has left one in four people out of work, Spain is battling to rebalance its economy and get its debt down, but borrowing costs remain uncomfortably high for a country facing another year without economic growth.
Some analysts fear local finances and higher social security costs could push this year's budget deficit over the 6.3% mark. On Sunday, PM Mariano Rajoy said the target would be hard to meet.
His centre-right government broke a campaign pledge by saying it will not make its usual end-of-year review to adjust pensions for 2012 inflation. Authorities said meeting the deficit target was their top priority. Ministers had been divided on whether to touch the pensions because of the blow to Spain's 9 million retired people, a source close to the government told Reuters.
But by doing so, Spain will please its EU partners and the ECB, which is opposed to inflation-linked reviews of pensions and wages.
Separately, a ECB policymaker said on Friday the bank had a "very serious" debate about cutting interest rates this week and that a cut was possible next year if the euro zone economy does not pick up.
Speaking on the possibility of an interest rate cut by the ECB, Linde said: "That could be, but I have no way of knowing at this time."