Spain commissions new report into property evictions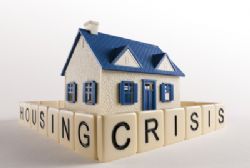 Following the customary Friday cabinet meeting, it was announced yesterday that a new study on property evictions will be undertaken before the Government will decide on any measures to tackle the wider problem.
Deputy PM Soraya Saenz de Santamaria explained that because data currently came from different sources it often varied, and that more accurate and reliable information was required.
The National Institute of Statistics (INE), in collaboration with the Spanish Land and Commercial Registry, will be in charge of this new statistical report, which will be publishedat the end of every 3 months.
The evictions problem has caused several suicides since the economic crisis started in the country.
The Spanish government adopted emergency measures last month, announcing a moratorium on mortgage repossessions for 2 years for the most vulnerable homeowners, and that a "fund of houses" with cheap rental accommodation would be set up for those who have already lost their homes.
Bank figures also reval that for 2012 to date, there have been 172,000 evictions since the housing bubble burst in Spain, with no sign of the problem abating any time soon.