AENA's Duty Free auction questions future of San Javier Airport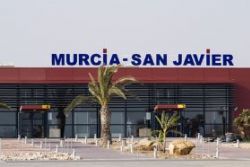 AENA is due to announce the successful candidates who have submitted tenders to operate the Duty Free outlets at 26 of their airports between 2013 - 2020.
Initially there were 8 companies shortlisted for the operation, but this was latterly reduced to 7.
The outlets are expected to generate a turnover of €700 million per year - one which AENA has described as being the "World's largest Duty Free Operation."
Up until now, most Duty Free airport shops were managed by Aldeasa, however 5 of the 26 airports on the list - La Coruña , Asturias , Federico García Lorca Granada-Jaén, Murcia-San Javier and Santander - will be seeing Duty Free outlets being established for the first time.
The first "batch" of airports to be announced on Monday, comprises 11 airports: Madrid-Barajas, Malaga, Costa del Sol, La Coruna, Almeria, Asturias, Bilbao, Federico García Lorca Granada-Jaen, Jerez, Santander, Santiago and Sevilla.
The 2nd batch includes 9 airports : Barcelona-El Prat, Palma de Mallorca, Ibiza, Menorca, Valencia, Gerona-Costa Brava, Murcia-San Javier, Alicante and Reus.
The 3rd batch includes the Canary Island airports: Tenerife North, Tenerife, Fuerteventura , Gran Canaria, La Palma and Lanzarote.
The companies interested in particpating in the auction can choose to bid for one or all airports independantly.
However, the one question that has not been addressed is this : "Why has Murcia's San Javier Aiport been included in the auction ?"
Even though the Regional Government of Murcia has repeatedly stated how Corvera Airport will open by the early summer of 2013 , this seemingly just adds further substance to news recently tweeted by AENA that they have no plans to close Murcia's San Javier Airport .