Earthquakes in Almeria and Murcia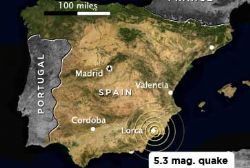 A rash of seismic activity in the South-East of the Spanish mainland over the course of the last 7 days has prompted a heightened state of interest from Spain's National Geographic Institute (IGN).
A total of 28 seperate earthquakes have been reported in the Granada / Almeria / Murcia provinces.
3 of these Earthquakes were strong eneough to have been felt on the surface - measuring from between 2.7 and 2.9 on the richer scale and at depths of between 5 - 11 kms. All 3 of these activities had epicenters to the west of the town of Antas, Almeria.
Antas is located just 50km from the Town of Lorca, Murcia, which was devastated back in 2011 when 2 earthquakes of 4.5 and 5.2 on the richter scale caused widespread damage and claimed a total of 9 lives.
Concerns were also raised just last month when the Geological Society of America published a study in it's monthy magazine whch warned that the Murcia Earthquakes "Could happen again soon."