Threat to Regions failing to comply with 2012 deficit target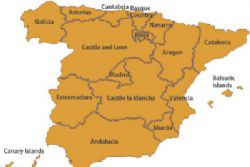 Finance Minister Cristóbal Montoro warned last week that the regions that do not meet the central administration's deficit-reduction goals at the end of this year face possible sanctions, including intervention in their finances by Madrid.
Publicly, the finance chief singled out Andalusia and Catalonia as 2 of the worst offenders when it came to ignoring the government's deficit-reduction plan, and said that next week his ministry will begin publishing on its website where all of Spain's 17 regions stand in terms of compliance.
In an aside with reporters during Constitution Day ceremonies, Montoro said the central government was doing its part to try to bring down Spain's national deficit to 6.3% of GDP by the end of the year as part of its agreement with the EU. But he added there didn't appear to be any similar efforts being made in the regions, including those governed by the Partido Popular.
With the exception of Catalonia, which is governed by the Catalan nationalist CiU bloc, and Andalusia, where Socialist José Antonio Griñán is premier, Montoro declined to name other regions that were failing to comply. Nevertheless, government sources said other transgressors included Valencia and Castilla-La Mancha, which both have PP premiers.
The Financial Stability Law, which was passed early this year, gives the central government "more power than ever" to sanction or intervene in the regions, Montoro said. The Rajoy administration set a goal for all regional governments to reduce their deficits to 1.5% of GDP this year. But it won't be known until February whether individual regions complied or not.