Further Health Worker Protests in Spain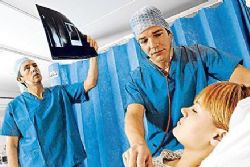 Thousands of health workers, on strike since last month, marched on Sunday in Madrid to protest against budget cuts and plans from the Spanish capital's regional government to privatize the management of public hospitals and medical centers.
This was the 3rd time doctors, nurses and health workers have rallied since the local authorities put forward a plan in October to place six hospitals and dozens of medical practices under private management.
The plan also calls for patients to be charged a surcharge of €1 for prescriptions.
Workers launched an indefinite strike last month against the plan, which has not been endorsed by the centre-right government of PM Mariano Rajoy. Health workers in the capital are striking Monday-Thursday each week and seeing patients only on Fridays, while also responding to emergencies.
Spain's 17 autonomous regions control health and education policies and spending. They have all had to implement steep cuts this year as the country struggles to meet tough EU-agreed deficit targets.
Dressed in white scrubs, the protesters shouted slogans such as "Health is not for sale" and "Health 100% public, no to privatizations".
"Of course, privatization can be reversed. Actually the question is not if it can be reversed, because privatization should never have a future," said Luis Alvarez, an unemployed man from Madrid attending the demonstration.
Belen Padilla, a doctor at Madrid's hospital Gregorio Maranon, said one million citizens had already signed a petition rejecting the plan.